Robotic cells or linear axis handling?



Whether standardized robot cells and linear axis handling or individual automation solutions - with or without image processing – NectOne supplies the right automation technology.



Complete automation from a single source



As a system integrator, we provide complete solutions from a single source: design, planning and implementation of the design, control programming and production including commissioning and on-site operator training. We incorporate high-quality components from well-known manufacturers, such as industrial robots from IGUS, Kuka, ABB, … , as well as controllers from Siemens and Beckhoff.
We offer robotic Hard-/Software application development among the whole product life-cycle:


Model based control architecture design
Hardware-In-the-Loop Simulation (HIL)
Software-In-the-Loop Simulation (SIL)
Embedded solution development integration (FPGA, ASIC, …)
Hardware in the Loop Simulation and Evaluation of related model based Hard- and Software solutions
Development of interactive demo Scenarios  (On screen, augmented reality, and virtual reality) for test- and marketing purposes
Model Based Controller Development (Kalman, Impendance Control, Model Based Control, ...)
MATLAB/Simulink, ROS-Robotic Operating System, Dymola/Modelica, dSpace, ...
System Testing
Field Bus Integration
Robotics Simulation and Control


i-robot coordination
Dynamic collision avoidance
Singularity avoidance
Kinematically redundant mechanisms
Complex kinematic chains
Global path planning
Real-time dynamic simulation
Workspace Visualization
IO and sensor feedback
Integration of new hardware components
NectOne Robotic Software Solutions
NectOne robot control software solutions are implemented at responsive apps for a touch panel pc as well as for smartphone, tablet and desktop PC. Furthermore we provide native integration into the world leading IoT-platform PTC-ThingWorx. Our software solutions are free configurable, light weight and reliable. We develop under consideration of German DIN for industrial software development. We integrate path-planning, modular configuration of robotic axis, 2D-Camera's, ToF-Cameras and many more perception systems.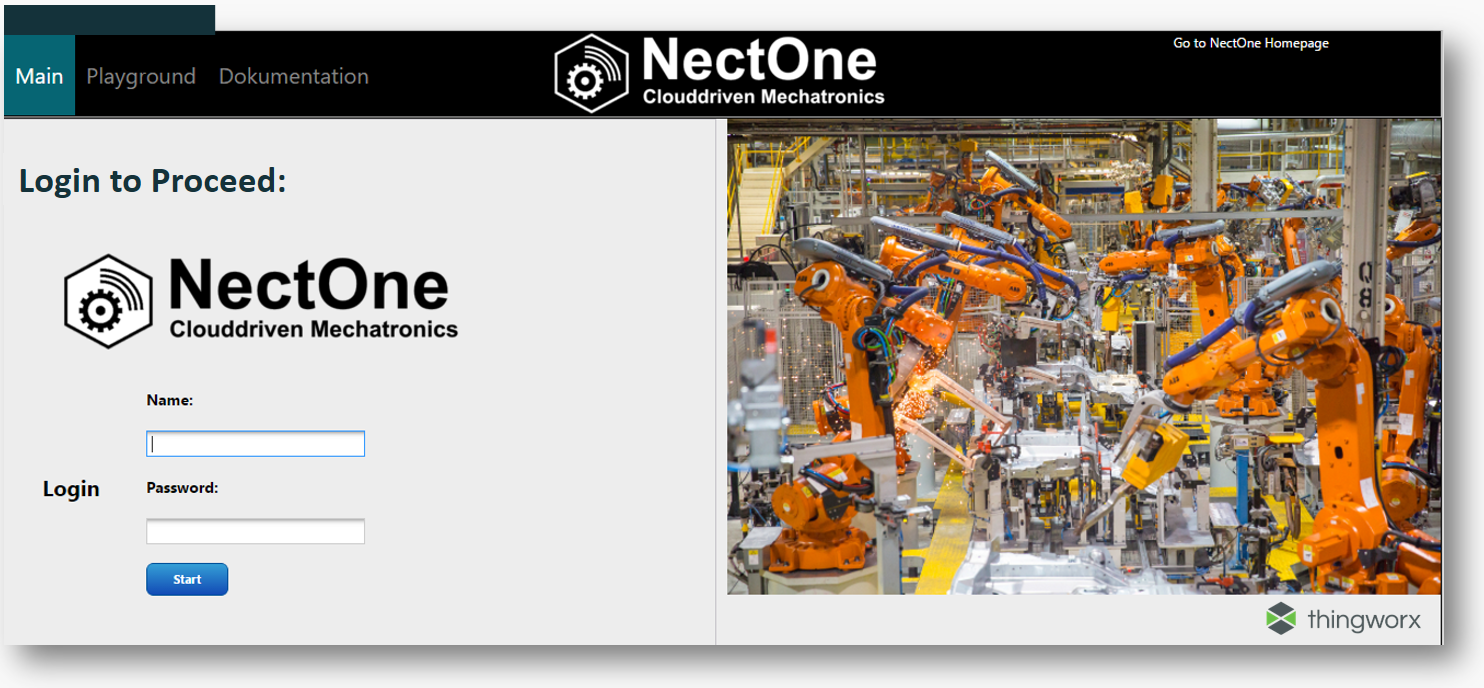 NectOne - Cloud-Connected Industrial Robot Control Software Solution